One of the most exciting excursions to take on an Alaska cruise is to go whale watching.  I have been fortunate to take whale-watching tours from several ports in Alaska.  Each adventure begins with one goal in mind – to spot whales!
In this article, I'll give you the lowdown on taking a whale-watching tour in Icy Strait Point.  What to wear, remember to pack, and expect to see when whale watching.
Icy Strait Point Whale Watching 
On this cruise to Alaska, I sailed on Quantum of the Seas. Our ship pulled up to the Ocean Landing pier in Icy Strait Point. What was so convenient about this pier was that the whale-watching boats also dock directly opposite the ship.
Joining a whale-watching tour right at the same pier as the cruise ship saves time.  Not having to get transport to a distant whale-watching launching spot is a real bonus. While waiting for my boat, as one boat loaded and pulled away, another dropped off guests and then reloaded for the next adventure.
Many people opted to do the whale-watching excursion on this particular day in port.  I had never seen so many people lined up to get on a boat.  The weather cooperated, making the experience all the more pleasant.
Icy Strait Point was the tour operator for this excursion.  In the past, I watched for whales from a small boat in Juneau.  The next time was aboard a small raft when sailing with UnCruise Adventures.  I knew the waters near Icy Strait Point had plenty of whales, so I was excited to be on this excursion.
RELATED:  21 Best Things to Do in Sitka, Alaska
Choose Your Perfect Spot on the Tour Boat
Boarding the boat, I remained on the open aft deck, not wanting to miss the coveted breaching whale.  Plenty of inside seating with large windows held many passengers, as did an open upper deck.  A 360-degree view is essential for me, but that is not required nor necessary to enjoy a whale-watching excursion.
The inside area is also ideal when the weather turns cold, windy, or rainy.  The sun shone brightly on this particular day, but I brought a waterproof coat, hat, gloves, and waterproof shoes.  It's always best to come prepared for quickly changing weather.  
RELATED:  What to Pack for an Alaska Cruise Plus Packing List
A couple of ziplock-type bags are handy to protect your camera equipment, too.  If you tend toward seasickness, be prepared. The smaller boats do well in rougher waters, but you will definitely feel the motion.
After a brief safety demonstration, we were off on our adventure.  Throughout our whale watching, a narrator described the area and told stories about the whales' habits.
These humpbacks return to Alaska from their overwintering grounds. They swim great distances from Japan, Hawaii, and Baja California to reach the rich waters of Alaska.  You know humpbacks are nearby when the herring season begins in May.
RELATED:  More Things to Do in Icy Strait Point
Aim for the Illusive Whale Shot
Taking photos of the whales requires great patience. My whale photos show just bits or pieces of the whale that prove I was there, but not much more. The whales surface for a tiny amount of time, and to have your camera focus on them is a stroke of good luck.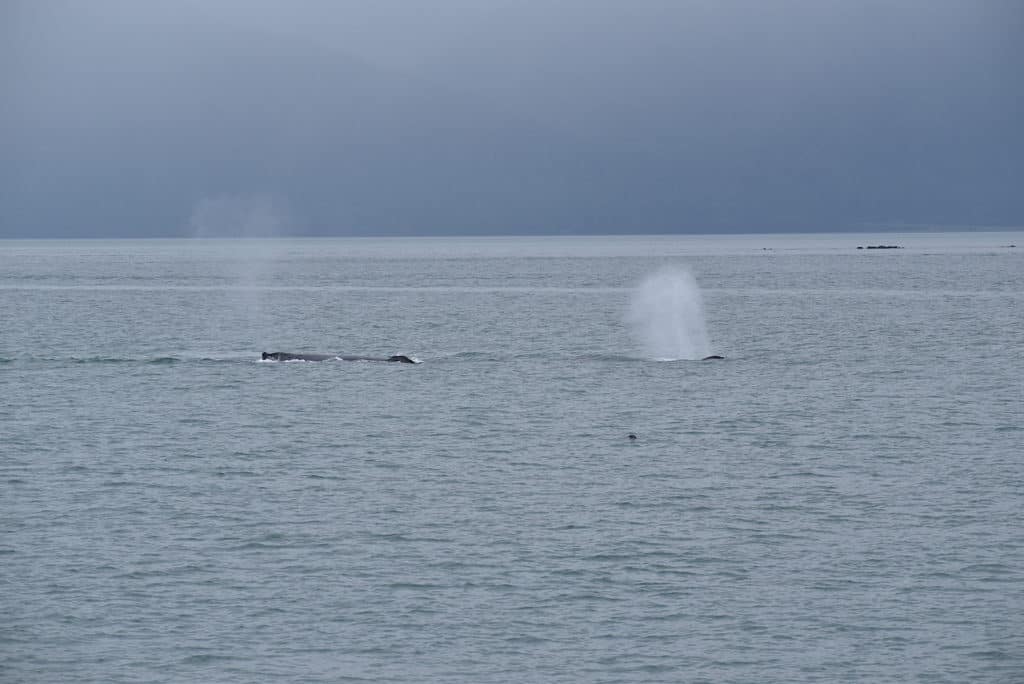 Trying to follow my advice, I attempted not to be consumed with capturing a photo of a breaching whale.  Although I wanted to get that photo, I realized from experience that even if a whale did breach, I would have to remember it in my mind, not on my memory card.  It happens so fast.
Speaking of photography, be sure to bring a good zoom lens with built-in stabilizer, an extra memory card, and extra battery power.  A tripod could be helpful if there are very few people on your boat, but setting that up is a more difficult task.
Don't leave common courtesy at home; let other passengers have a chance to get their shots.  Move around if you're in a prime spot for a long time.
Being of shorter stature, I carried a selfie stick. It was ideal for reaching above the heads of taller people on the boat. It was also great having one hand free.
Why Icy Strait Point is Perfect for Whale Watching
Icy Strait Point and its proximity to Port Adolphus make it an excellent spot for whale watching.  The area is part of their annual migratory route to these feeding grounds.
Most tour operators guarantee a whale sighting, or you get your money back. How can they do this? They know where the whales feed, and tour captains radio to other captains with up-to-the-minute whale location information.
Other Places You Might See Whales in Icy Strait Point
Many humpbacks call the Inside Passage home, so it's possible to spot whales from the comfort of your balcony stateroom or deck of your ship.  A special excursion for whale watching isn't always necessary. 
But why take a chance of not seeing a whale from your ship when a tour operator guarantees whale watching.  
Icy Strait Point has several waterfront or almost-waterfront restaurants. Diners are able to see whales from the comfort of their chairs. 
Whale watching from shore is also possible, though distant, for those not inclined to go out on the water.  This option is suitable for those who tend toward sea sickness.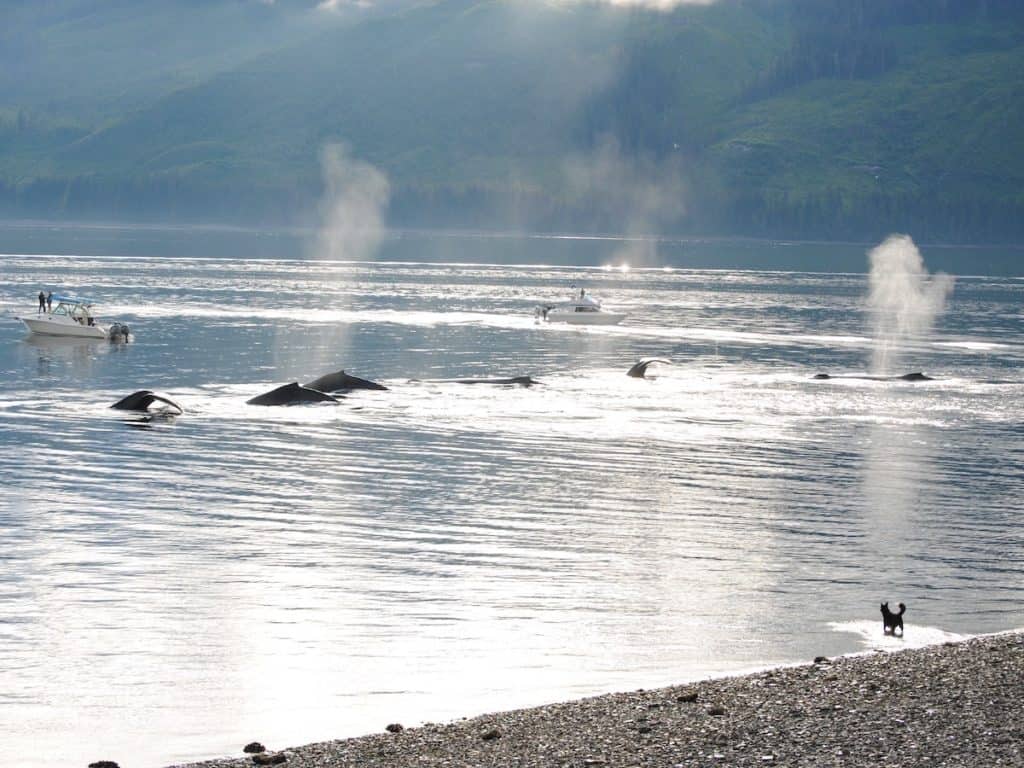 See Whales and Other Marine Mammals
Whales are not the sole inhabitants of the Alaskan waters, so seeing other sea life or wildlife is possible. Brown bears, sea lions, otters, dolphins, porpoises, eagles, a large variety of birds, and other animals call this area home.
You might spot an orca or see whales bubble-net feeding if you are lucky. Don't forget your binoculars!
From Icy Strait Point, we enjoyed the views of majestic mountains in every direction. Besides the possibility of spotting wildlife, the views from the boat give the impression of exactly how big everything is in Alaska. Even if I hadn't seen a whale, I would still have been happy with this outing.
During our tour, the captain steered the boat toward spouting whales. We all scanned the horizon for that white stream coming from the water's surface. Put your instant gratification tendencies aside and remain patient.
Look Quick !
As quickly as the guides can mention a whale sighting, using the hands of a clock for guidance, a surfacing whale can return below the water. 
Equally quickly, it can dive or even breach.  Grabbing a camera for the perfect shot takes great visual and motor skills.
Suddenly, just a short way from where a whale spout rose, a whale jumped into the air.  It arched into the air and back into the water in seconds.  The tour fulfilled my quest to see a breaching whale. 
Hoping to see not only a breaching whale but also photograph it, I figured that one out of two goals achieved was a good thing.  Disappointed at missing the shot, I reminded myself of the importance of being in the moment rather than keeping my eye on a screen.  And remembering some fellow cruise passengers on a previous cruise talking about how great their adventure was in Icy Strait Point, I knew that I had to experience it.
After about two hours, we headed back to the ship, clearly in view from our small vessel. The morning had been a success, and I had the image of the breaching whale, not on a memory card but in my own memory.
In addition to the breaching whale, on this tour we saw many other humpback whales. I have grey dots in my photo library to prove it!
As I waited to exit our boat, guests were offered little salmon bites as samples. I politely passed on trying any of them, but seafood lovers on the ship mentioned they were tasty.  I briefly considered trying a dark chocolate bar offered at the counter, but I fought off the temptation.
We pulled up to the pier and walked over towards Quantum of the Seas. Some folks immediately turned to head onto the ship for lunch. I remained on land to explore more of Icy Strait Point, a port with plenty of options for exploring nature.
Maybe the next time, I would take a more relaxing tour just sitting in the comfort of the inside of the whale-watching boat. One notable advantage of that is being able to hear all of the narration from the guide. Staying out on the deck, I heard very little of the commentary.
Disclaimer: I was a guest of Icy Strait Point on this whale-watching tour. This did not influence my opinion of the tour nor my chances of seeing whales.
Theresa Russell
Initially hesitant to cruise due to misconceptions, Theresa Russel first sailed French Polynesia, quickly becoming a convert to this style of travel. Since then, she has sailed on big and small ships on many of the oceans and rivers of the world. Having won awards for her words and images, she continues to seek new experiences and adventures throughout the world to write about and photograph.